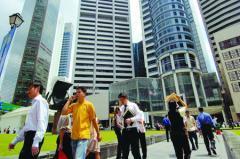 SINGAPORE – Civil servants will get a year-end Annual Variable Component (AVC) of 0.7 month, with lower waged officers getting an AVC of at least S$1,000, the Public Service Division announced today.
The year-end AVC payment was decided in consultation with the unions and signals the Government's continued commitment to help low-wage workers
See on www.todayonline.com
Mortgage Supermart Singapore, Loans Brokerage Solutions to bring you Savings and Smiles. about Mortgages, about Loans, about Financing.