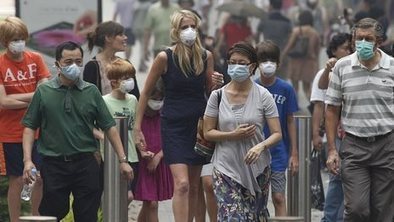 Officials in Singapore say they are exploring whether to charge two Singapore-based companies in connection with severe smog triggered by forest fires in Indonesia.

The companies own land on the Indonesian island of Sumatra. Singapore's foreign minister said he had asked the attorney-general to consider the legal options. However, he said it was mainly up to Indonesia to take action against the companies.

The firms, Asia Pacific Resources International (April) and Sinar Mas, are headquartered in Singapore but have Indonesian owners.

"The majority of hotspots in Riau (province) are inside April and Sinar Mas concessions," Indonesian presidential aide Kuntoro Mangkusubroto told Reuters news agency.
See on www.bbc.co.uk