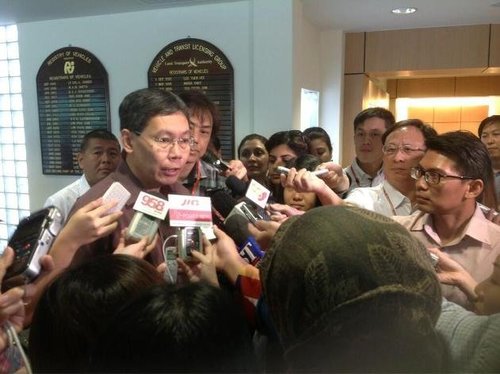 Transport Minister Lui Tuck Yew announced Monday morning that engine power will be included as a new criterion in categorising vehicles in Certificate of Entitlement (COE) bidding exercises starting February 2014.
Under the change, the engine power of any car in category A (small cars) should not exceed 97 kilowatts (kW) – equivalent to about 130 brake horsepower.
This comes on top of the existing small cars criterion that the engine capacity of any cat A car should not exceed 1,600cc.
This means that current car models such as the Mercedes Benz C180 (engine power 115kW), BMW 118i (125kW) and the Mini Cooper S (135kW) will be grouped together with cat B cars (above 1,600cc).
The new categorisation is expected to better level the playing field for mass market cars like Toyota, Mitsubishi, Suzuki in the cat A segment, which is now being dominated by premium cars.
See on http://sg.news.yahoo.com/engine-power-to-be-included-into-cat-a-car-coe-from-feb-2014-062823787.html