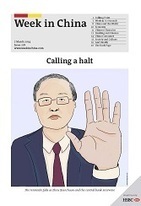 "If you have a bazooka in your pocket and people know it, you probably won't have to use it," Hank Paulson explained six years ago, as he asked Congress for the 'right' to use taxpayer funds to bail out Fannie Mae and Freddie Mac.

Paulson hoped that the pledge alone would be sufficient to calm financial markets. But his bazooka bombast failed and it was only a matter of time before he had to launch Washington's largest-ever financial rescue.

Late last month China policymakers started to fire up their own financial artillery, in their case allowing the renminbi to lose value dramatically against other currencies in the foreign exchange markets.
See on http://www.hsbcnet.com/gbm/global-insights/week-in-china/2014/end-of-the-one-way-bet.html